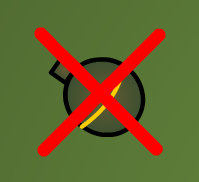 This vital command enables you to curb (counter-urb) your friendly fire casualty rates, not by removing their number one cause—idiots— but by removing their number one method—indiscriminate grenade tossing. The removal is permanent and, for better or for worse, does not affect rifle grenades. It is also free and infinite to use. This command can really save your squad. If you have men all over the field and you don't want the men on top gibbed, this is your answer.
Ad blocker interference detected!
Wikia is a free-to-use site that makes money from advertising. We have a modified experience for viewers using ad blockers

Wikia is not accessible if you've made further modifications. Remove the custom ad blocker rule(s) and the page will load as expected.